We are very excited to introduce the latest addition to the Songololo imprint at Shuter & Shooter : Hair Day.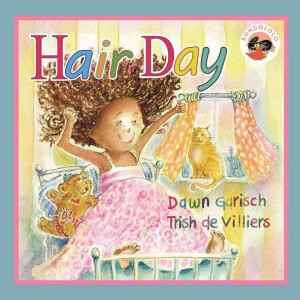 WHOSE HAIR?
Zinzi likes her hair the way it is. Her mother wants it cut. On the way to the hairdresser Zinzi sees how many different kinds of hair there can be. Her imagination runs wild. But what happens at the hairdresser is even more crazy…
This hilarious first reader, beautifully and whackily illustrated by Patricia de Villiers, explores the power struggle between a mother and her child over the all important right to decide on whose hair it is anyway
ABOUT THE AUTHOR:
Dawn Garisch is a doctor who writes, a poet who walks, a researcher who dances. She has had five novels, a collection of poetry, a non-fiction work and a memoir published. Her award-winning short stories and poetry have appeared in anthologies, journals and magazines. She has had a short play and short film produced and has written for television and newspapers. Three of her novels have been published in the UK.
Her novel, Trespass, was nominated for the Commonwealth Prize in Africa.
Hair Day is her first children's book.
ABOUT THE ILLUSTRATOR:
With a background in painting, theatre and print-making, Patricia de Villiers has provided illustrations for numerous publications – for adults, for youth and for children. After some years as a public health manager, she is re-entering the creative world.
The publication of Hair Day marks her happy return to the rewards of inventing and making picture stories for children.
UNIQUE SELLING POINTS:
Exquisitely illustrated, this beautiful book inspires the imagination.
This book engenders interesting topics for parents to discuss with their children while maintaining a lighthearted and humorous tone.
The illustrations extend the text in quirky ways, providing entertainment and also encouraging the child to identify visual aspects of the story such as people, colours, shapes and animals.
ISBN 978-1919-88885-9 · Paperback · 28 pages · Age: 4-9 · Price R55.90
Email: sylvie@shuter.co.za ∙ Tel: 033 – 846 8724 ∙ Fax: 033 – 846 8701